Buying a custom suit online is not like your ordinary online shopping where you choose a product, click order and wait for the delivery. That is not how you buy a custom suit. There are basic understandings and guides you need to know before you make that online purchase.
Remember one thing when you decide to buy a custom suit online: The custom tailoring is more a service than it is a product. It is a service because the process entails fitting, adjusting and altering until the suit is made. It is more of personalized service.
Therefore before making any purchase decisions, you need to focus on the quality of services rather than the future suit itself. But how do you differentiate quality service in the world of competing for online websites? How do you measure if an online seller has these quality services?
Basic Understandings
We, at Enzo Custom Suits and Tuxedos understand the needs of our clients. We want our clients to have the best comfort and fit when they receive their custom suit. That's why we want to make sure our clients know some basic concepts about ordering their custom suit from any online shop.
These ideas come from years and years of experience. These might be helpful when you buy your very first custom suit online.
1:  There is no guarantee for the "perfect fit" for the first time. You might want to lower your expectations.
Each one has their own perception of "fit". Some people may consider one suit a perfect fit but other people will say otherwise. What does "fit" means exactly?
In tailoring terms, "perfect fit" means the outfit should follow your body shape from the top collar all the way down and complement the rest of the body measurements. There are about 40 to 50 measurements that should "synchronize" with your body. You need to understand that in order to actually make a "well-fitting suit", every measurement, every place, and every body part should be perfectly measured to make a whole perfect appearance.
2: There are online tailoring shops that can get the measurements right the first time. Don't be disappointed when some don't. Alteration is also a key when it comes to client satisfaction.
If you come across websites that say they can "guarantee" the perfect custom suit, you should give it second thoughts. When a tailoring business is moved to an online store, the perfect fit becomes challenging to achieve especially during the customer's first time order.
3: Most of the time, when the online shop has no physical store in your area, you will need to provide your own body measurements.
When ordering a custom suit online, you will have to provide your body measurements. You will have to ask a friend to get your measurements. It helps a lot when you watch videos on how to get measurements for a suit. It is perfectly okay when you are not confident about the measurements your friend took. You can repeat taking the measurements at least three times to make it more accurate.  If you want a more accurate measurement, you can go to local tailors to take your body measurements.
4: Avoid tailors who do not offer "unconditional return and refund" policy.
As mentioned above, when the customer is involved in providing his own measurements, there is a greater risk of "fitting mishaps". Thus, the online store's "return and refund" policy becomes crucial. Reasonably, unconditional return and refund policy should be a standard after-sale service in this kind of business. But it becomes far from reality nowadays.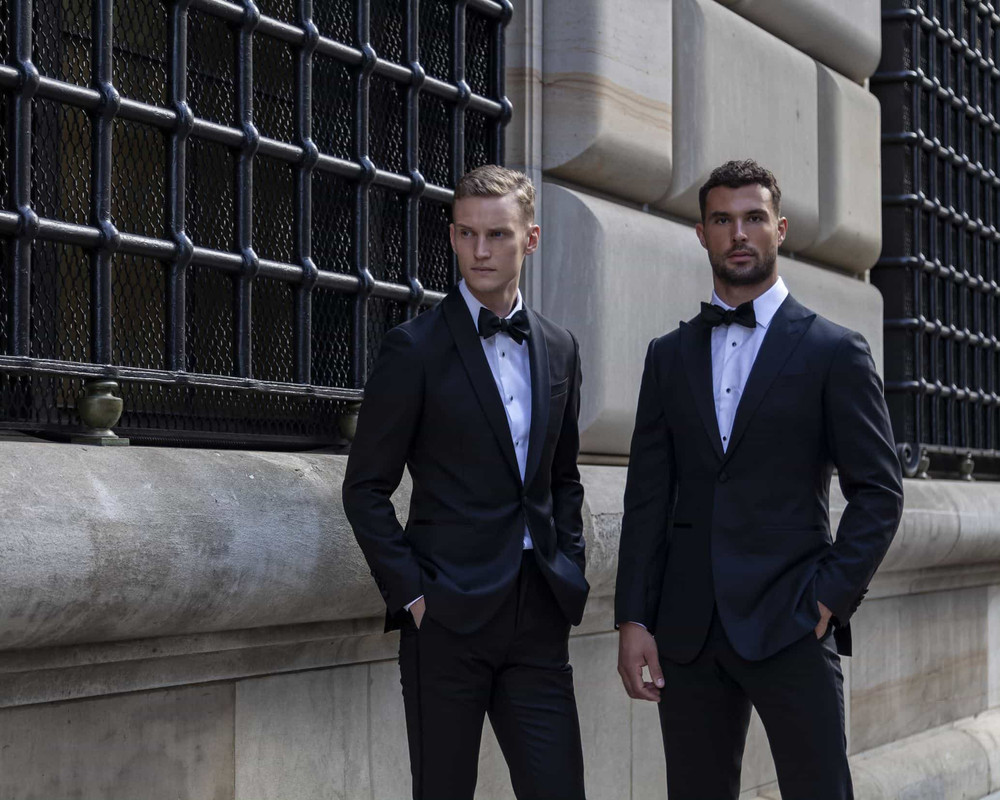 Step-by-Step Guide in Buying A Custom Suit Online
In today's technology, it becomes increasingly convenient to shop online and have it delivered on your doorstep. Enzo Custom Suits and Tuxedos address the problem of most people when it comes to suits and tux tailored to their comfort, fit and lifestyle. We have come up with a step by step guide in buying a custom suit online.
Step 1: Check the Tailor and Website Reputation
With the thousands of websites vying for online customers, some online sites may have a fake reputation. How can you tell the difference?
The best way to check an online tailor's track record is to join forums about it. Real and first-hand experiences from different people can help you decide which online tailoring shop is worth your time and attention. Look for detailed comments especially with date, emotions, etc… rather than the one-liner recommendation and suggestions. Most detailed comments and reviews are more trustworthy feedback. You can personally visit Enzo Custom Suits and Tuxedos' physical stores in New York, Chicago, Beverly Hills, Washington DC and Philadelphia.
Step 2 – Look for the after sale service of unconditional return policy.
It is important that the online shop offers an after sale policy of repair and alteration. There is a great risk that the custom suit will not fit perfectly as expected. If the store does not offer an unconditional return policy, the customer will lose both the custom made suit and his money.
Therefore, you must read thoroughly their policies on return, alteration and after sales. If they cannot give you a sufficient statement regarding their return policy, it can be a sign of bad customer service. 
Step 3 – Request for Samples of Suit Fabric
Before placing your order, ask for a sample of the actual fabric they are using in making the suit. This is an important step to determine whether the quality of the fabric is top level or mediocre. Some websites present high-resolution photo and video of the fabric.
Photos and videos can be enhanced and manipulated to make average fabric look quality. You cannot trust them fully. You must personally feel the fabric run through your fingers. While you are at it, you can also request for a sample lining fabric along with suit fabric. Touch, feel and make a decision. Don't just look and then decide right away.
Step 4 – Go to a professional seamstress or tailor to get your body measurements.
Online shops will give you a guide with pictures on how to take your own body measurements. It sounds so simple to do but when you have to take 18 measurements, the risk of getting on or two measurements is at stake. One wrong measurement will put your "custom made" suit at greater risk of a misfit.
Make some time to ask a professional seamstress or tailor to get your body measurements. It will take you some effort, time and money but it will be totally worth it. If you don't have a local tailor in your neighborhood, ask someone to help you take the body measurements. Repeat at least 3x to make sure all the numbers are accurate. 
Step 5 – Choose classic colors like black, dark gray and navy blue
If this is your first attempt of buying a custom made suit online, choose solid classic low-key colors. Black, Dark Gray, and Navy Blue are all good choices. Don't choose pinstripes or big squares. This will greatly reduce the risk of buying an ill-fitting suit. Solid colors can save you some worries in terms of fitting.
Little measurement errors are easily seen on striped or squared fabrics. Little bulging and wrinkles on solid color suits are hardly noticeable.
Also, a well-constructed striped suit jacket has well-aligned stripes around the shoulders. When you are going to alter the measurements, you will need to align the stripes back. For solid color suits, this problem does not exist, thus easier to modify.
Step 6 – Prepare for Alterations or Refund
Don't set high expectations. Some online tailor shops couldn't deliver the perfect yet. Prepare for possible adjustments to the suit. In some cases, you will have to ask for a refund.
At Enzo Custom Suits and Tuxedos, your garments will arrive back in our showroom for a final fitting. We do all the final alterations in-house at no additional charge. Visit our website today and experience VIP service in making your very own custom suit.